Hello there!
Welcome to my in-depth review of Freedom Accelerator by Jonathan Montoya, where I will walk you through every aspect of this remarkable program and highlight how it can help you build a successful business from scratch. Get ready to discover the transformative power of the Five Second Silent Method and understand why Freedom Accelerator is the ultimate solution for aspiring affiliate marketers, enabling them to scale their earnings from $10K to an astonishing $100K per month.
The creator of the Freedom Accelerator Program is Jonathan Montoya, the founder of Passive Income Lifestyles, and his passion lies in empowering individuals like you to achieve financial and time freedom through the establishment of a full-time passive income business. In the past, he worked as an electrical engineer, but his dissatisfaction with the typical nine-to-five grind led him to make a bold decision—to dive headfirst into the world of affiliate marketing. Since then, he hasn't looked back and has had the incredible opportunity to guide thousands of people on their journey toward breaking free from the chains of traditional employment.
If you enjoy video content about building a business, I highly recommend subscribing to his YouTube channel, where he regularly shares valuable content to support your entrepreneurial endeavors. Now, let's dive into the comprehensive review of Freedom Accelerator and uncover the treasure trove of knowledge it offers.
Freedom Accelerator Members' Area
The screenshot above showcases the members' area of Freedom Accelerator, and it serves as the gateway to an incredible learning experience. But before we explore each module in detail, let's first familiarize ourselves with the four phases of the Freedom Roadmap. Understanding this framework is crucial, as it forms the backbone of the entire program.
Freedom Accelerator is ingeniously designed to cater not only to complete beginners, including those who may be as green as my parents when it comes to starting an affiliate marketing business, but also to experienced affiliates earning anywhere from $30K to $50K per month. The challenge was to develop a program that could bridge the gap between these two extremes—taking newcomers from square one to substantial income and assisting seasoned affiliates in reaching new heights with six-figure monthly earnings.
Now, let's delve into the four phases of the Freedom Roadmap and witness how they align with the corresponding modules. But fear not, I will seamlessly navigate between the roadmap and the course content, revealing the brilliance behind its construction.
Phase One: Rapid Results
Phase One is all about achieving rapid results. This initial phase primarily caters to beginners, although even those who already possess an affiliate marketing business can benefit from revisiting Phase One to ensure a solid foundation. Within Phase One, Step One involves identifying a significant problem that needs solving. Once we pinpoint this central issue, we embark on Step Two, which revolves around finding the most effective solution—a journey I refer to as the A-to-B Map. 
Now, let's explore the program itself. In Phase One, under the Four Phases of Freedom framework, we focus on constructing your very own A-to-B Map. This map played a pivotal role in Jonathan's personal journey, propelling him from zero to an impressive $10,000 in monthly earnings. Throughout this phase, he not only teaches you how to create your own A-to-B Map but also provides you with his own tried-and-tested version. Yes, that's right—he is equipping you with both the skills and the resources to succeed. It's a powerful combination of hands-on learning and valuable assets, ensuring your comprehensive growth as an affiliate marketer.
You'll be thrilled to discover that multiple A-to-B Maps in various niches are at your disposal within the program. Whether you're interested in health, cryptocurrency, or real estate, you'll find tailored maps and step-by-step guidance to conquer these niches. 
Five Second Silent Method & Fast TikTok Growth
Now, let's progress to Phase One, Step Four—creating short-form videos utilizing the Five Second Silent Method. This module is packed with comprehensive training and insights into crafting engaging five to fifteen-second videos. Jonathan provides you with a complete framework to master this art form, and as an added bonus, he offers you a collection of 100 pre-made short-form videos that you can effortlessly integrate into your marketing strategy. Additionally, you get access to a foolproof technique for gaining 1,000 TikTok followers overnight, enabling you to rapidly build your audience. Trust me when I say that the Five Second Silent Method works wonders—it has yielded remarkable results for countless students within a mere 24 to 48 hours. It's an absolute game-changer!
Furthermore, Phase One unveils the captivating world of Facebook Reels. To enhance your understanding and expertise in this domain, you will meet Joshua Smith—a true authority on Facebook Reels—to share his wisdom and strategies. In an exclusive module, Joshua reveals how he leveraged Facebook Reels to amass over one million followers and generate substantial six-figure earnings. This bonus module alone is worth its weight in gold, as Joshua delves into the exact techniques he employs to promote affiliate offers through Facebook Reels.
But we're not done yet! Phase One takes an exciting turn as we explore the art of DM closing. By employing a Google Doc framework, you'll be equipped with the necessary tools to close high-ticket sales with remarkable efficiency. For this special module, Jonathan has enlisted the expertise of Peter Dudeck—a master of DM closing, known for his collaborations with industry giants like Josue Pena. Peter's insights and techniques will astound you as he reveals the secrets behind generating substantial revenue through effective DM communication. It's an invaluable addition to Phase One, designed to boost your sales and negotiation prowess.
Phase Two
Now, if you thought Phase One was captivating, brace yourself for the exhilarating journey that awaits in Phase Two—creating a traffic ecosystem, also known as "leads on autopilot." In this phase, we dive deep into constructing a powerful traffic machine that will drive leads and sales to your business indefinitely. The module is a comprehensive exploration of YouTube as the primary platform for generating traffic, complemented by insights into nurturing your audience through a dedicated hub.
Phase Three
Phase Three is where the magic happens—increasing conversion rates. Once you have mastered YouTube videos, TikToks, and short-form content, it's time to take your earnings to the next level. In this phase, Jonathan will reveal the secrets to transforming a $10,000 monthly income into $30K, $40K, or even $50,000. The key lies in creating your own lead magnets, custom bonuses, and signature offers that not only skyrocket your conversion rates but also build trust and credibility with your audience. Phase Three is a game-changer, differentiating you from other affiliates and propelling you to the top of leaderboards in programs like ClickFunnels.
Phase Four
Lastly, we enter Phase Four—the pinnacle of automation and scaling. In this phase, we focus on building your team and setting the stage for true financial and time freedom. Our ultimate goal in Phase Four, Step Five, is to grant you the ability to take extended vacations—months, if desired—while your business continues to generate income. Accomplishing this requires establishing streamlined workflows, operational processes, and the delegation of tasks to a capable team. Jonathan will share insights on mastering these essential aspects of business growth, enabling you to scale your earnings to six-figure monthly incomes and beyond.
One noteworthy aspect of Freedom Accelerator is the interactive badge system. As you progress through the program, you'll earn badges for completing specific tasks, keeping you on track and motivated throughout Phases One to Four.
Access to a Community of Affiliates
In addition to the incredible wealth of knowledge provided by Freedom Accelerator, you will get access to a private Facebook group where you can connect with fellow members, share experiences, and seek guidance. But that's not all—included as a bonus is a five-hour training session with Daniel Chow, one of Jonathan's top affiliates. Daniel's expertise in leveraging Facebook organically to generate seven-figure sales is second to none, and he generously shares his strategies, frameworks, and resources in this exclusive training. Many Freedom Accelerator students have claimed that this bonus alone exceeds the program's value.
Cost of Freedom Accelerator
The investment for Freedom Accelerator is $1497, or you can opt for a three-payment plan of $597. Rest assured, the program comes with a myriad of additional bonuses, including weekly coaching calls. This coaching element sets Freedom Accelerator apart from other courses, as it provides ongoing support and guidance—something rarely found at this price point. However, due to the limited capacity for personalized coaching, this bonus may not be available indefinitely.
Affiliate Promotion Access
I must emphasize that within Freedom Accelerator, you gain access to an affiliate program where you can promote the program itself. By joining, you become part of the Freedom Accelerator affiliate community, managed through Digistore24. This affiliate program ensures transparent tracking and timely commission payouts, allowing you to monetize your involvement with Freedom Accelerator.
Final Thoughts
As Jonathan progressed in his own business journey, he expanded his endeavors to include building a team and developing his own courses. This expansion led to the birth of Freedom Accelerator, a program that not only caters to beginners, guiding them to rapid results, but also propels them through Phases Two to Four, enabling the creation of a sustainable business. Freedom Accelerator offers a unique opportunity to build an affiliate business that thrives on trust and credibility, paving the way for future ventures like course creation and coaching programs.
Thank you for taking the time to read this comprehensive review of Freedom Accelerator. As a student of Jonathan Montoya's methods myself, I know that this program can help any person start their business successfully or take their current business to new heights and I highly recommend it.
To gain access to Freedom Accelerator, simply follow this link.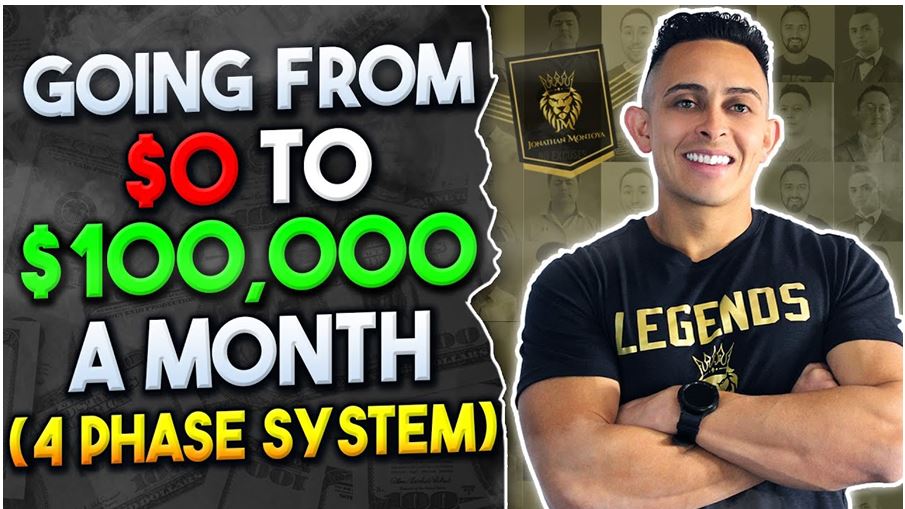 To your success,
Clark
P.S. Not ready for Freedom Accelerator yet? I partnered up with Jonathan Montoya to offer a 100% FREE Affiliate Marketing Course for the absolute beginner. Get it by clicking the button below.